Here is a picture of the latest sock:
DNA-ish, from 1.5 skeins Knitpicks Sock memories yarn in the Cape Cod colourway on size 1.5 Bamboo DPNs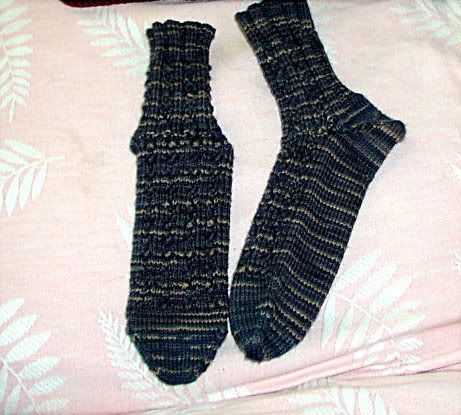 I used two different DNA-ish cables for these socks. The leg has a cable that stands out more than the one on the foot and is more stretchy. But they're both vaguely DNA-ish as befits the scientist that they were designed for!
Sadly, one of my knits has gone to the frog pond ("rip-it! rip-it!"). A blood red scarf I was knitting out of Mountain Colours Ruby River sock yarn: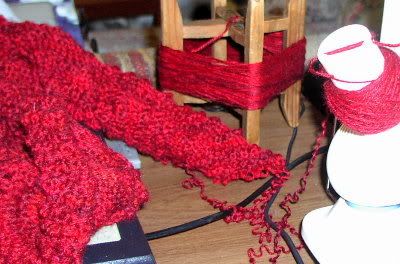 I was knitting it with a double strand, and when I got to the end, I realized that it looked like one of those heavy, clunky hand-knits that you find abandoned at the thrift store. So now I am re-doing it single-stranded, using the Chevron Scarf pattern from
Last-Minute Knitted Gifts
. (Actually there's nothing last-minute about the patterns in that book...they all take me much longer than the patterns say)
At the bookstore yesterday, I looked through the new
Romantic Hand Knits
by Annie Modesitt and put it on my 'to buy' list. These are gorgeous, versatile designs - kimono sweaters, lacey pull-overs, long dresses... It also includes a hat that I am crazy about!
My friend Dee, from the LYS, is moving to Vermont at the end of the month. Thats so sad. She and I were the ones who did both knit and crochet and got excited about vintage pattern books and bone crochet hooks. When she goes, it will be back again with the 'rolling eyes response' when I show a picture of a new 1940's pattern book from the thrift store. While they see something with huge shoulders that is hopelessly out of style with its high waist, I see a beautiful body-conscious knit that can be redesigned and easily updated. Dee is also worried about finding new friends who share her interests. She is thinking of leaving the knitting world and going into teaching. Tomorrow is her going-away party. I'm going to go through my stack of vintage books and see if I can find some crochet ones that she'd like as a going away gift. Maybe I can find one about teaching kids to crochet!