Another mysterious box was waiting on my doorstep this afternoon - the one I have been waiting for, that my friend Nad in Germany sent so many weeks ago! How exciting! This box was nicely intact, no crushing, no big holes in the side...like a grand lady, it had been treated delicately during its long boat ride!
The Contents: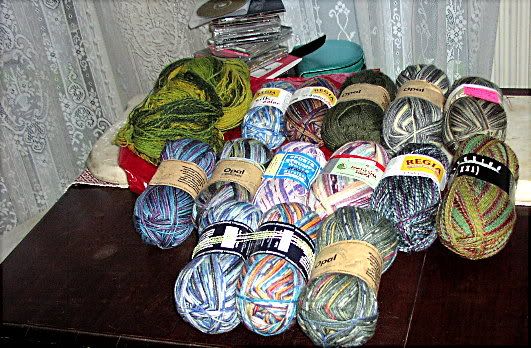 This is the marvelous sock yarn that creates its own pattern when its knit up: stripes, or fair isle, or subtle blending from one colour to another. Many of these skeins will make two long socks (or gloves) or even a short-sleeved blouse!
The green and yellow yarn in the upper right is a lace weight - and will be just right for the Swallowtail Shawl in this season's Interweave Knits; next to it, the light intense blue one, is Silk! Silk sock yarn! You can't imagine how soft it feels!
There is just so much! Tibet colour, Treking in a gorgeous hue, cotton-wool, skeins that are limited edition colours designed by Frederic Zwerger (the two in the front row leftm - you can only get these in Germany, they aren't exported), and all the other colours that I love so much: dark amd mellow greens, blacks and creams...and one that looks like Zebra (Opal makes a line with the colours of various wild animals that I've been absolutely craving: Owl, Zebra, Tiger, etc...).
I'm over the moon with all these yarns. They represent not only a paycheck's worth of premium yarn, but many many weeks of joyous, satisfying knitting!!
I'm in love with all of them.... and especially this one: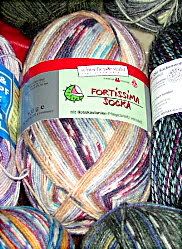 See the little chestnut on the label? That says that the yarn has been infused with Chestnut Oil, so that it is antiseptic and healing! Isn't that marvelous? I can't wait to make these socks!!
(You can see the swap box I sent Nad, here - http://nadsknittingblog.blogspot.com/ - by clicking on her August 2 archive. If you click on the photo, the image enlarges!)
Thank you, Nad, for the most wonderful swap box!