I have been so very busy these first two weeks of classes... one of my freshman classes is over its enrollment limit, but the senior class is more manageable. So far, both seem pretty good - no students going nuts so far!
The weather here is so crisp and cold at night and all the stars are out. In the morning, the grass is wet and the birds are singing and Canadian Geese are on their way to wherever they winter. The daytime sun is beautifully clear and bright, and with just a slight breeze to ruffle the trees, these are the best days of fall. An instinct rises inside me for fires in the fireplace, pancakes in the morning, and tea - with toast and jelly - in the afternoon. Deep garnet red raspberry jelly is my favorite, but recently I was enchanted by a different type of jelly.....
Yesterday I visited a college in the northwest of the state, a small and early-founded town with beautiful 1800's mansions behind miles of New England stone walls. This little college town has a lovely little yarn shop...and here I found my jelly:
Haha! This yarn is "Jelly" Kidsilk Haze from Rowan. It goes well with my green koigu sock yarn, so I may have jelly socks soon. The silk in the Haze makes everything softer! I couldn't stop there, though. I also bought "Marmalade":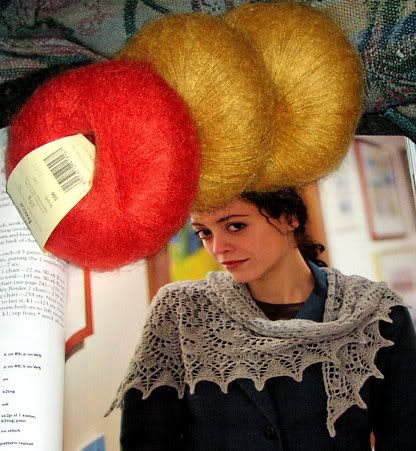 As you can see, I'm planning to pair it with an autumn gold in the same yarn and make the Swallowtail Shawl from the recent Interweave Knits magazine.
While I was in the store, the postman delivered the big box of new colours from Manos Yarns, and I got to be the first person to have one of the new fall dyes. I chose a blend that looks like Brambleberry Jelly, (but it is really called Mulled Wine - another nice autumn tradition on these cool evenings) and I plan to pair it with yet another silk Haze for a scarf...