My friend Lori and I took a drive to the New Hampshire mountains yesterday - a beautiful 72 degree sunny Saturday - just to look at the brilliant leaves and hills, and maybe see a moose. The sad part is that we both forgot to bring cameras, so I can't show you the nature views, which were spectacular. We did see LOTS of hills - Mount Washington covered with snow! The red rock where the Old Man of the Mountain used to be (sad). And red, gold, russet leaves... No moose but a Whole Herd of White Tailed Deer! And.... a local Diner sign shaped like a Big Red Teapot...
We found ourselves in Littleton NH, just before noon, and after grilled portobello mushroom, spinach, and feta sandwiches, wandered the whole length of the main street which was in the midst of a big pre-holiday sale. As we passed the three-storey brick mansion that is the Post Office of this tiny town, my friend told me that when that building was built, the Federal government insisted that it be built to these certain huge proportions and when the town protested that they only needed a small building for their relatively few citizens, they were strongly told that these were regulation proportions for a town of that size. After the huge building was up, the feds discovered that they were insisting on the measurements for Littleton, Massachusetts, not New Hampshire! So now little Littleton NH houses the Post Office, the Court House, and other municipal offices in the biggest building on Main Street. (Just a little local history for you)
Lori was very indulgent about the stores I wanted to visit and of course Pearl's Yarn Shop was the first. I scored a whole flock of Frog Tree Alpaca - 10 balls for $32! I know, I was lucky! This photo darkens the colour somewhat - its the most beautiful mellow coral. I'm not sure what I'm going to make with it yet.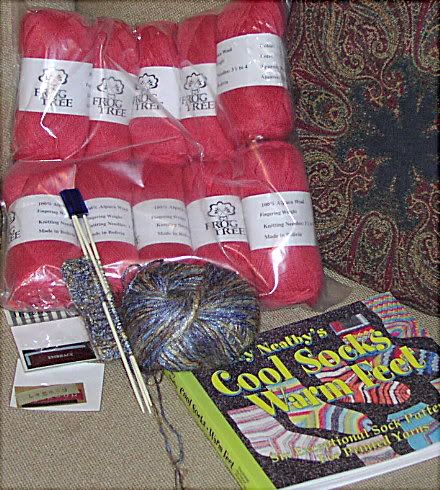 The book is Cool Socks by Lucy Neatby - she was actually at one of the stores autographing copies, as you see:
This next is of some woven labels I found to sew into my knitted things along with the Silver-Apples label.
These say: "hero, honor, be proud, remember, legacy, believe, secrets, inspire, love, je t'aime, embrace, and romance". I thought they'd be cute - like a secret message inside...
A couple of days ago I offered to make a pair of beautiful cashmere socks for a woman I know who has a spiritual calling. She totally rejected them! "I don't wear socks" she said...:( But my friend Joe in California asked if he could have them for a friend of his who is hospitalized with MS, so that is all good now. I'm using the lush Louisa Harding yarns, because his friend loves blues. This is what they look like so far: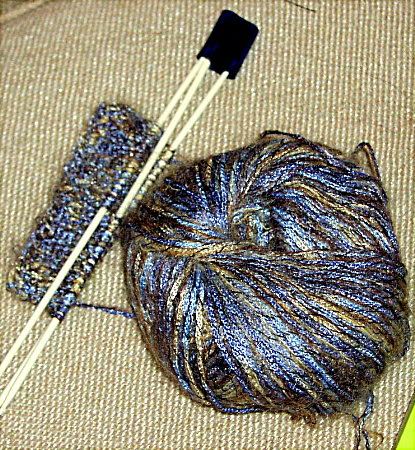 I so wish I could work on knitting instead of classes today!!!!