The holiday season was fast and furious for both the BF and for me. If seems to have flashed by like the Silver Surfer, but to have been so FULL of events that it left me gasping.
We started with a visit to the BF's family in Cape Cod, where everything was so beautifully old New England - in keeping with their ocean-side cottage with its traditional door wreath! I made a Christmas Pie:
And, as I reported earlier, my knitted gift for his sister was (whew!) finished on time: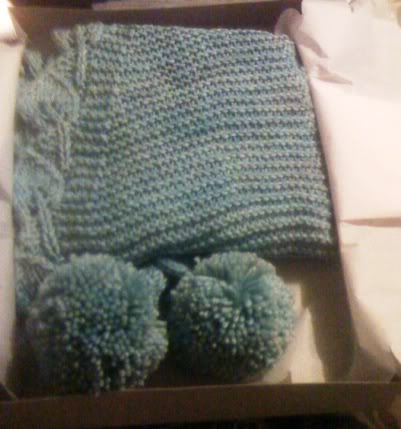 This is Saroyan, and was very well received. She wore it the entire day as a shawl. She was especially delighted that I had knit for her without her "having to ask for it". It never occurred to me that this would be an issue, but once she mentioned it I could understand that people don't like to feel like they're begging you to make them something. And then there is the embarrassment if you have to turn them down because your knitting list is too long (ahem)... as in 'all projects planned for the next year long'. So I was glad I decided to knit for her this year and so happy she was supremely knit-worthy, as in "loving it!"
The next day, back home, we had our own day and I opened two most wonderful gifts from friends and family: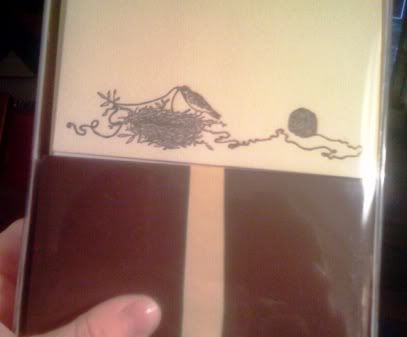 These most incredibly beautiful cards were designed and drawn and printed by the artist Julia of
Thorazos
. I love them beyond belief - the little bird, the cosy nest, the escaping yarn ball... it's so me!
and my great friend Nad sent me this French Sajou scissor set which is To Die For!
It's the mother-of-pearl set with thread bobbin and thimble in a velvet box! There are little crosses on the handles, like Templar crosses. Last year she gave me one of
Sajou's sewing boxes
full of various notions so I am really over the moon about all these treasures!
I made knitted gifts for friends, too. I (whew!) finished this one the morning of Christmas eve and got it into the mail that day, so at least the "done-by-Christmas" thought was there! This is a simple cowl for a hiking, biking guy friend:
It's made from Hand Maiden 4-ply 100% cashmere in a size 7 needle. I plan to write up the pattern and post it for free in Ravelry, since when I went looking for a pattern like this I couldn't find one. This is tall enough to pull up to the nose when cold, but sophisticated enough to fold down and look like a black turtleneck under a formal wool winter coat.
The third knitted gift I made - and this one was finished just 3 days before Christmas but enough time to get it to the recipient by Christmas day! Whew! - was, again, for a guy friend. It is a striped scarf - wide and long - knit in simple K1, P1 on a size 9 needle from Madeline Tosh Vintage (worsted) that I ordered from Happy Knits. The colourways are Graphite, Cloak, and Silver Fox (a gorgeous burnished white bordering on light, light grey):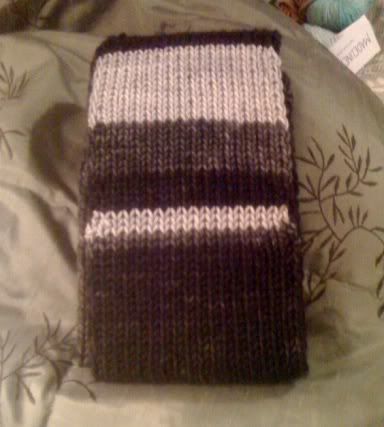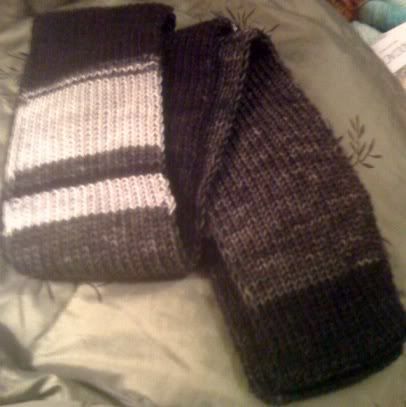 This knit was also well received and has been in use almost constantly since it was opened!
Shortly after Christmas, the BF and I traveled to DC again for a week. Our family there have a most gracious home, beautifully decorated for the holidays:
We had many teas: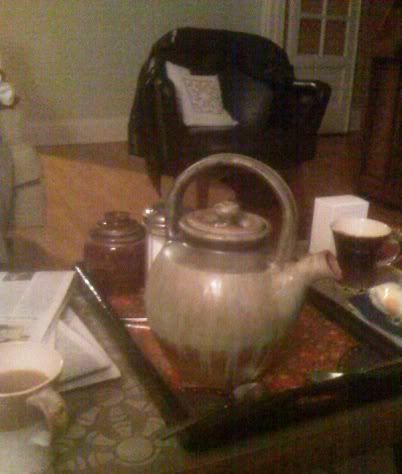 And loved interacting with both Lamp Cat: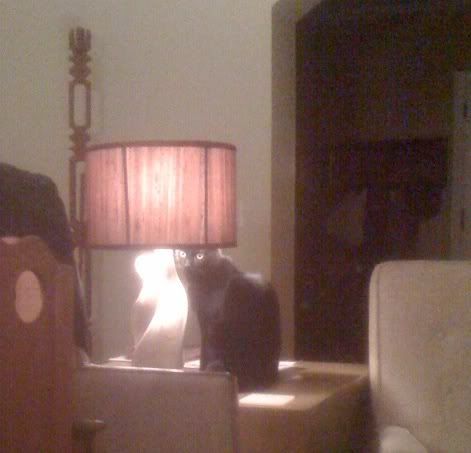 and Crib Cat:
and, while there - and this should not surprise you - I enjoyed a leisurely, soul-inspiring, second visit to
Fiber Space
in Old Town, Va while the BF slept in the car (we had gotten lost about 5 times in DC traffic while he tried to find our way there so I think he was emotionally exhausted!). This time, I met the shop dog, a pretty little miniature greyhound who happily stretched in the sun from the wide front windows or tip-toed clickity-clack back forth between people: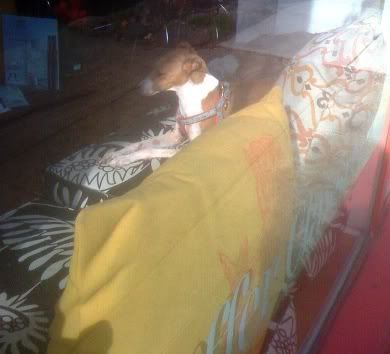 I loved the Fiber Space holiday windows: a fiber-dressed astronaut and alien: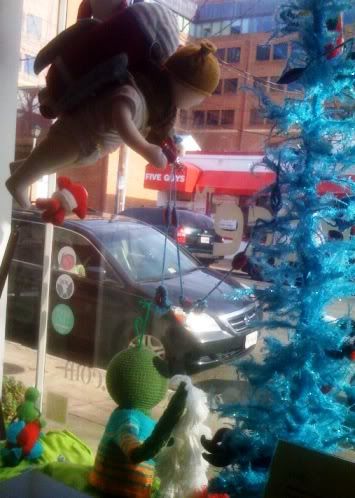 and Rockets!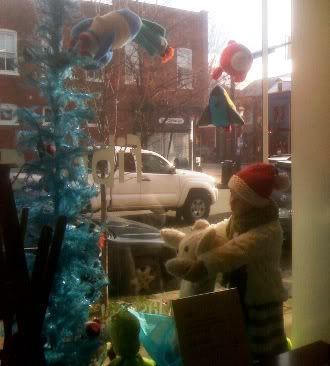 I was able to wander all around the store, looking at every single thing, the way I love to do and gathering everything into my shop basket. The staff is so respectful of shopper's space but so helpful when needed. After an hour or so, I sat on the couch and sorted (I wasn't able to get everything I wanted LOL), and still ended up with an inspiring collection of new yarns and patterns:
I'm especially excited about 3 skeins of Brooklyn Tweed's Loft that I acquired, along with a perfect, vintage style scarf pattern. I'm dying to knit these up! You can see my choices, set out on the couch beside the basket above: Long Johns, Postcard, and Cast Iron.
So there you have about two weeks out of my life, not counting annoying illnesses and going-back-to-work-nesses. I've started a KAL in my Piecework group in Ravelry and am still finishing up one last big & complicated knitted Christmas gift. But I'm definitely on the other side of "Whew!" and ready for a short and simple winter.