The final gift knitted for Christmas has been sent and received and worn by the recipient! So here are the particulars:
This is
Blue Moon Fiber Arts Gaia
, in the colourway
Tempes
t. The pattern is the beautiful Anastasia sweater from Quince & Co. The pattern was so fast and easy and knit up without a hitch. This is size XS, and came out with about 2 inches of positive ease. I added a leaf repeat for length but it turned out it wasn't needed. It looks deceptively short-waisted on the model used for the pattern, but it isn't. I also added pockets. I love a cardigan with pockets. The buttons are vintage glass buttons from the 1940's.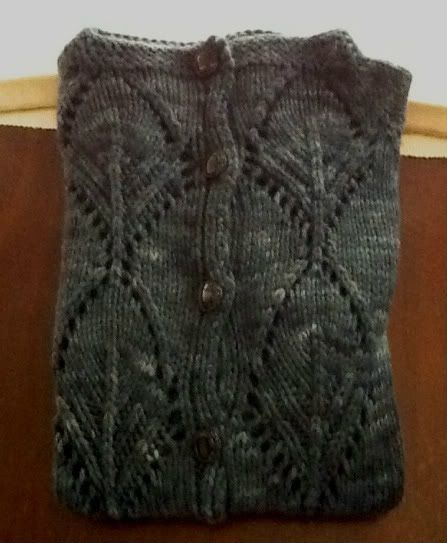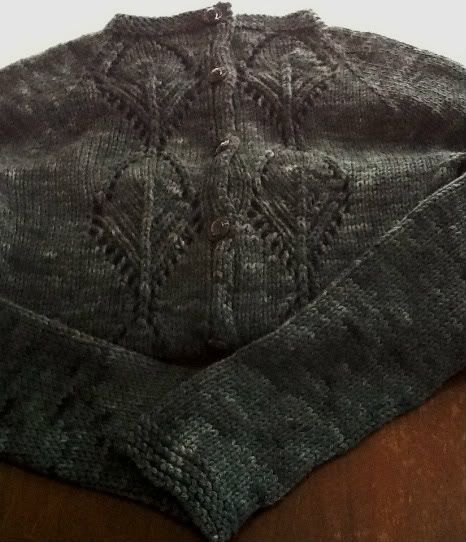 I'm so happy to be on to a group of projects that I've been mulling over for a couple of months - the Belfast Hoodie (from Quince & Co.) - but without the hood, in Quince Lark colourway Storm, and a size 3 (!) Baby Sophisticate for the little guy in the wonderful Sublime Organic wool. My 3rd project currently on the needles is the Firebird Feather Scarf from Piecework magazine in Fleece Artist Saldanah Lace in the colourway Red Fox. I think these projects will keep me busy for a while!