Lots of knitting and designing has been happening at Chez Sophia, and I thought that I would have knitting pattern news to share today, but that will have to wait a few more days.
For today, I can show you what I've been doing in between - for something fun and fast to keep me going while the knitting, designing, ripping-out-and-doing-over was happening.
The first is a pair of little socks, called Tiger, Tiger. It's from a child's sock kit that I got at WoolGirl, but I didn't use either of the patterns that came with it. I wanted to do a simple stockinette with this yarn, so that the tiger stripes would show instead of being broken up or obscured. The yarn is incredibly soft and has an angora-like halo. I think the little guy will wiggle his toes happily when he wears these!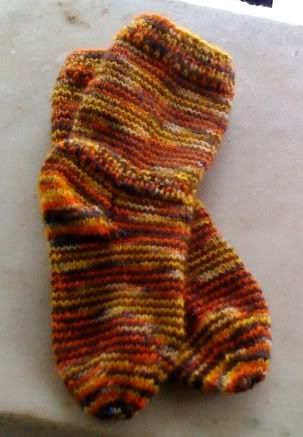 For the second thing, I finally used the little 1940's Bootee kit that I found in the antique store! This kit was complete with 4 patterns, a ball of light blue wool, and a set of white plastic (leatherette) moccasin soles with woolly padded soles. For a while I tried to make the bootee exactly according to directions - the patterns were very cute. But they were written so inconveniently! For instance, every single one instructed you to "break yarn" and re-attach it a few stitches away at least four times! and then... the pretty blue wool turned out to be already broken in several places.
I had some really great Fair Isle sock yarn that was half cotton, and would be perfect for this time of year. So I just took advantage of the yarn itself and knit a simple bootee to fit the moc soles.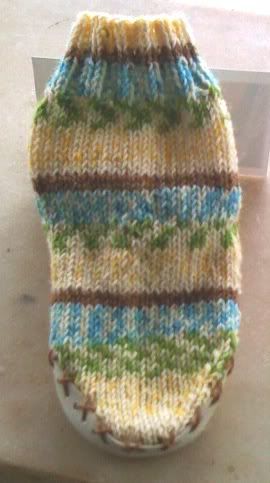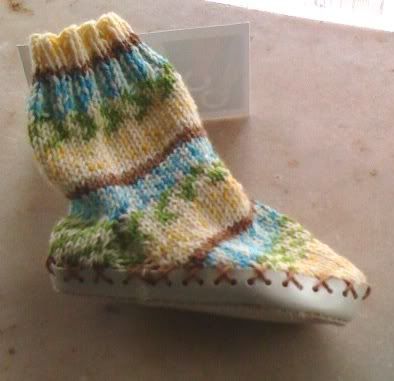 I love them! They're so cute, and soft and cushy inside. If the moc soles hadn't already had a layer of wool padding, I would have put a layer of wool batting in between the sole and the sock. I looked at modern moc soles in the LYS yesterday, and they are made of suede and have no padding, so that'll be my plan when I make another pair. But the modern mocs start only at size 4 inches, and that's way too big as yet. The vintage ones (size 1-2) are 3.5 inches long.
Both of these socks - the Tigers and the Moccasins, I did top down and here is a bit of a "recipe" for them...
Tiger, Tiger
cast on 48 Sts on Size 0 needles
K1, P1 for 1/2 inch
knit plain for 2 inches
K1, P1 for 6 rows (ankle)
divide sts for heel
create your favorite heel
commence knitting on all 4 needles again
Knit plain for two inches
begin evenly spaced decreases for toe
at 8 sts, thread yarn tail through and pull tight
fasten off and weave in ends
Vintage Style Moccasin
Cast on 44 stitches on size 1.5 needles
K2 P2 for 1 inch
knit plain for 1.5 inches
divide sts for heel
Knit plain on heel sts only for 1 inch
turn heel
pick up gusset sts and commence knitting on 4 needles again
start traditional gusset decreases
knit plain two inches from end of gusset shaping
start decreases for toe, on either side of front
at 10 sts, close with 3-neelde bind off on inside
fasten off and weave in ends.
Use sturdy, contrasting colour thread to attach to sole.