My online friend, Carina, sent me a gift of beauty. These are precious: her grandmother's knitting needles, wrapped with ribbon and roses. Look how wonderful! See the tips? Her grandmother knit so much that the tips are lighter than the rest…that's so unbelievably great! I'm honored beyond belief to be the recipient of such a family treasure, and will cherish these and remember their story every time I use them. And, as you can see, Catherine also approved and tried to claim them as her own….
I had another gift this week: my friend Marky sent me some Australian knitting mags! Four of them! Look at the inspiration:
Now here is something interesting – even the ads in these magazines have must-knit projects in them! like this Little yarn monkey:
Isn't he cute? I think I could make him, just from looking at the picture…
And the articles: this one on Op Shops (Charity or thrift shops to us Yanks) – its right up my street! And I got a particular kick out of the bluebird picture, because I think I've found most of the items in it right in our own Goodwill shop!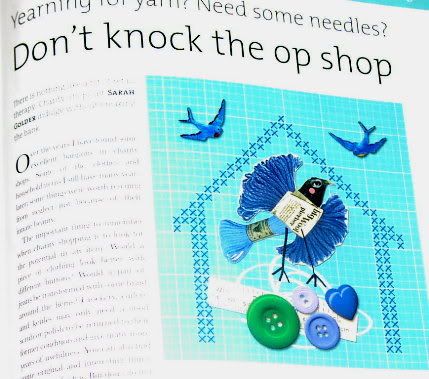 Lots of projects to keep me busy here…one of the mags is all sock patterns! Marky – you're the best!
~~~~~~~~~~~~~~~~~~~~~~~~~~~~
The Vet's called me yesterday to pick up Sausage's ashes. I cried all the way up and all the way back. They are in a big flowered tin, like a tea tin, and I think they weigh as much as he did in life. I am trying to decide whether to keep them or to scatter them around the peach tree in the back yard… maybe I need to let some time pass to decide.