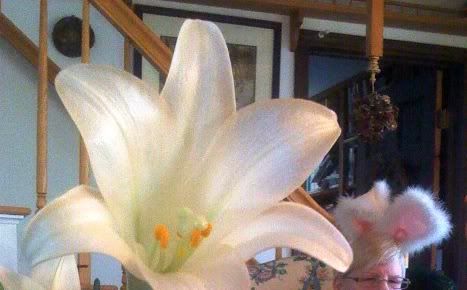 Yesterday, we went for a long drive to visit the boyfriend's relatives. Yes, that is one of his relatives wearing bunny ears. Everyone thought it was very cute but I was deathly and silently afraid she was going wear them out the restaurant for lunch! I'm such a wimp sometimes... now, if she'd been wearing a quirky vintage hat or cloche, like these in my 1923 April Needlework Magazine, I wouldn't have batted an eye!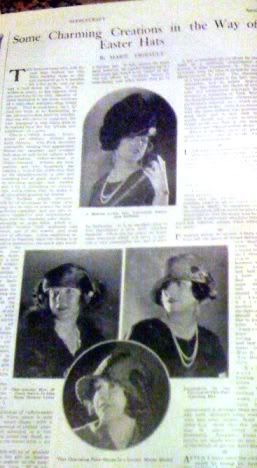 We went to a wonderful restaurant called
The Wicked Oyster
.

The walls were lined with the most beautiful paintings by local artists - all very expensive but mostly of the ocean...
The menu was all oysters. Others ordered spinach salad, but my boyfriend and I ordered buttermilk fried oysters with homemade cocktail sauce. They were incredible.
I looked through my stack of old Needlework Magazines for the April versions, but only found two, one from 1923 without a cover and the other from 1934: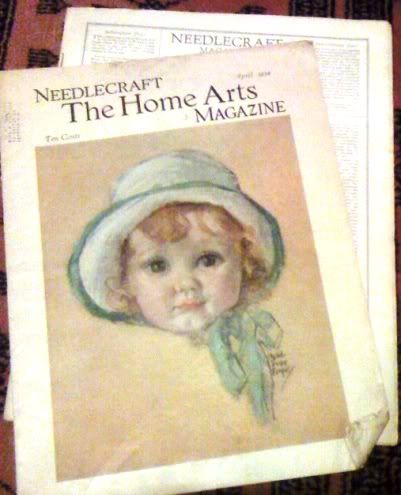 The New Spring Styles were loose and flowing:
and the patterns were focused on filet crochet:
There was a beautiful Anemone Tea Cloth illustrated, by the wonderful Mary Card of Australia, but as usual the pattern wasn't included.
I've always wondered if they expected the readers to copy the pattern by just looking at the over-sized photograph of her gorgeous filet designs.
There were no recipes for oysters in these April magazines, but they recommended lots of eggs - deviled eggs being the finger food of choice for a spring holiday luncheon:
and their argument for a Spring diet of eggs:
It's Spring, and Easter, and Nature is "recovering" from winter according to her own ancient laws, while poor old human nature is muddling along, trying to correct the mistakes they have made in selfishness, and greed, in war, and in peace. Learning the laws of being, and being true to them, is all that brings a good crop, be it in the cabbage patch, in the university, or in the college of Life. So much for our brief Easter sermon, and nobody can corner the joy to be had in the spring - it's there for the looking and the sniffing; the earth itself smells good in the spring as the frost leaves it... Use your senses in the spring- meet it with an alertness and an awakening to the simple joys that are free to all. If you can 'sit on a log and pat a dog, do it; it's fun in the springtime.
The 1934 recipe for spring eggs:
Eggs Florentine
Place two cups of minced buttered spinach in a baking dish. Break four eggs over this, season and pour over all half a cup of medium white sauce to which a quarter cup of grated cheese is added. Sprinkle with two tablespoons of melted butter and slip under the broiler to set the eggs and brown lightly.
Happy Spring! May you have a new (vintage) bonnet on your needles!