A most wonderful box arrived in the mail... a box from
Churchmouse Yarns and Teas
on Bainbridge Island, across the water from Seattle.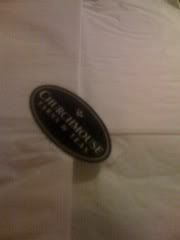 One of the best (in my opinion) things about college in Seattle is its proximity to Bainbridge Island and Madrona Lane. The ferry across deep and soothing waters to the
little village
uphill from the terminal, the Blackbird Bakery, The Eagle Harbor Used Books, and the fabric store across the street....
So this box, traveling its 3,000 miles to me, was most welcome and soothed my soul like a cup of tea with a familiar friend...
There is no trouble so great or grave that cannot be much diminished by a nice cup of tea.

~Bernard-Paul Heroux

Strange how a teapot can represent at the same time the comforts of solitude and the pleasures of company.

~Author Unknown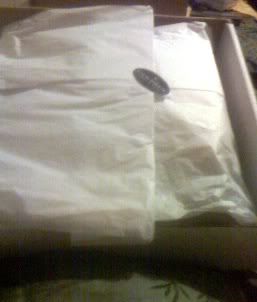 This box was a treasure chest, each layer revealing jewels more precious to a knitter than gemstones to a King.
First, two well-chosen skeins of Koigu: a leafy green and a luscious pink. I love green so much, a cherished lover in my youth having told me that green is the true colour of love because it has so many variations. I'm also drawn to pink - soft, delicate, petal pinks - though, being a red-head, I never wear it. Well, I secretly wear it... in my small-clothes and at night... So these two skeins delighted me.
Beside the yarn, a mysterious bubble-wrapped box revealed itself to be - of course - a box of tea!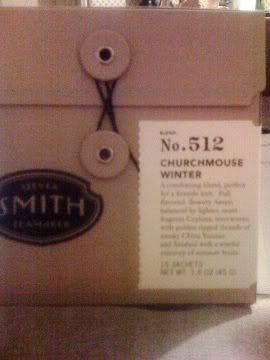 Chruchmouse Winter Tea is what they call "a straightforward blend of Yunnan, Assam and Ceylon with a hint of summer fruit that brightens with a touch of sugar or honey." It's lovely with milk and the fragrance is divine.
[I am a] hardened and shameless tea drinker, who has for twenty years diluted his meals only with the infusion of this fascinating plant; whose kettle has scarcely time to cool; who with tea amuses the evening, with tea solaces the midnight, and with tea welcomes the morning.

-Samuel Johnson
and beneath this box nestled the lovely card, with images of the Northwest seacoast and of projects to warm a knitter's heart and hands.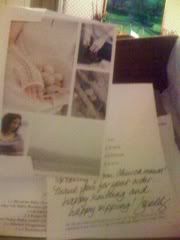 If you are cold, tea will warm you. If you are too heated, it will cool you. If you are depressed, it will cheer you. If you are excited, it will calm you.

~Gladstone, 1865
This would have been enough wonder for a chill and rainy New England day, but underneath all of this was a sleek smooth linen bag - beautiful and cool as a Boston Brahmin at a tea party. (Boston Brahmins are wealthy Yankee families characterized by a highly discreet and inconspicuous life style.)
and inside the linen, especially chosen to prepare me for this anticipated wild and passionate winter to come: a pattern, with cashmere-y yarn, and a little bag of dark shiny abalone buttons - all to make a beautiful pair of fingerless gloves that will help me transition from fondly remembered summer tea parties in the garden, to warm and cosy gatherings with the teapot in front of the fire...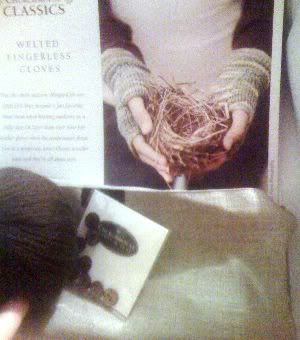 Surely every one is aware of the divine pleasures which attend a wintry fireside; candles at four o'clock, warm hearthrugs, tea, a fair tea-maker, shutters closed, curtains flowing in ample draperies to the floor, whist the wind and rain are raging audibly without.

- Thomas De Quincey
And finally, I have reached the bottom of the box, which holds more patterns from Churchmouse designers:
Wee Ones
- beautiful, clever, and simply elegant patterns that will keep me knitting furiously until December.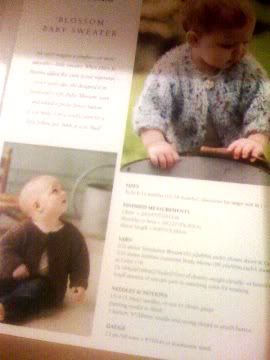 I'm thrilled, happy, content, and charmed. Thank you. And now I'm off for tea with my sweetheart, play with the magician-cats Holmes and Watson, and my own type of Art.
After tea it's back to painting - a large poplar at dusk with a gathering storm...

~Gustav Klimt