There has been quite a span of non-bloggery lately, not because I had nothing to blog about, but because the knits I did have to show are.... you guessed it - either sample knits for publication or Christmas presents. I always start Christmas knitting in August and this year I started in July. The reason for this Early Holiday-making is The Loopy Ewe Summer Camp. Each 4-week period we have a new knitting challenge that results in a lovely finished project. One month I did two projects in the 4-week challenge! There is one month left, that starts on the 15th of August, so right now I'm in hiatus. I also finished up the lovely vintage item I was knitting for A Stitch in Time II and mailed it off to the publisher. I think you will be very pleased with this second volume of vintage knits. What I've seen of it is gorgeous!
So now I'm using this space of time to finish up some WIPs. Way back in March, a friend sent my the latest Debbie Bliss magazine for a birthday present with a note that she's like the lacey capelet sweater on the cover. It's now winging its way to her in Florida - finished, blocked, and with a pretty hand-blown glass button at the throat.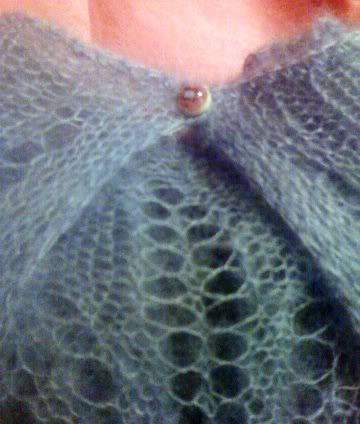 To tell you the truth, I don't like Debbie Bliss patterns. Don't get me wrong - her designs are beautiful and I often want the have the finished project, but its the part in between the wanting and having that's the problem - the actual knitting.
There are often errors, and there are often confused descriptions, almost as if the patterns are written so intuitively that the knitter has to be in the mind of the designer to get it right. Even when patterns are followed exactly, they often don't turn out like the picture of the project in the book. This could be the fault of the stylist. Stylists do pull in the waist with a clip or tighten a neck seam to lift the neckline - or anything that makes the photo shoot look better. But we can't know those invisible tricks - we can only trust that if we follow the pattern it will look like the photo paired with it.
Sure - my capelet looks like the photo seen from afar, but it is not circular and it is much shorter than shown on the model. Still, my friend is model-thin so I trust that it will fit her.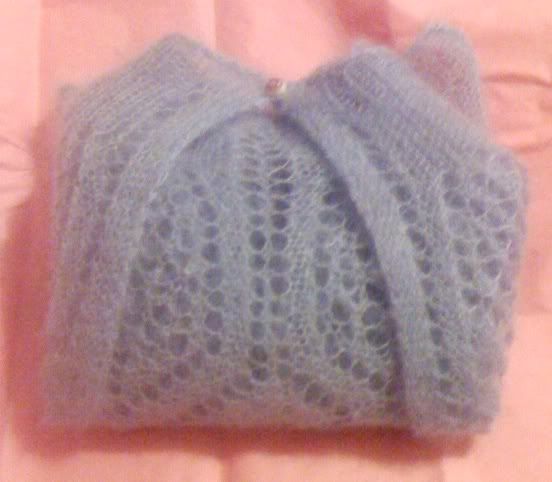 Now I'm working on another Christmas gift and then on the 15th I'll start my last Camp project. If I finish ALL of the Camp projects I win a skein of Wollmeise!