I've been making little things these last few weeks...like the Baby Surprise jacket:
Here it is in all its glory, made of Blue Moon Fiber Arts Socks That Rock yarn lightweight, in Goody Goody... The buttons are so cute - peeping baby chicks! I have ahuge collection of buttons, including baby buttons I've saved for years for just these types of projects, but could I find any that matched this sweater? no...noooooooo. Of course not! I was happy to find these at the yarn store though...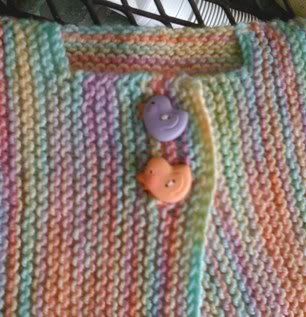 and socks that match the rest of the Petroglyphs family: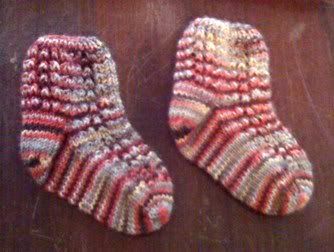 These are also made of BMFA STR lightweight. The colour is Petroglyphs, of course. Very tiny. The pattern is found on Ravelry and is called Little Eyelet socks.
and finally, I've made a little silk hat similar to the one my friend Ziarah made for her niece. I used some generic silk from China that I got at the weaving store. It was very inexpensive for pure silk, about $5.60 per skein - it must be the base fiber that yarn companies buy to dye and then charge a million dollars for. This pattern is the Feather and Fan baby bonnet, also free on Ravelry.
They sort of match:
Now, I'm in the midst of making 3 newborn diaper covers that I think I'll embroider on: an elephant, a giraffe (if I can find a graph), and a turtle (ditto). After that I want to knit some baby wash cloths and towels...
Sometimes life crowds so much into such a short period of time. Its almost like being swept under by a large powerful and particularly beautiful ocean wave.