I have the most beautiful knitting book in the world!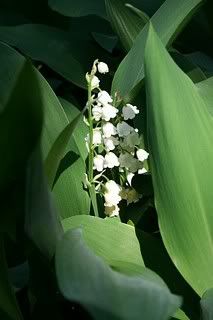 I really believe that's true. This volume seems - although I don't read German - to have everything: the History of a particular older knitter - perhaps the woman who developed this stitch or these patterns; an explanation of various stitches and grafts and ways to make the actual lily (with some explanations in English!); lots and lots of garment patterns - far more than most US pattern books; with descriptions, and notes, and lace graphs, and written pattern directions for each one, and a short biography, with photos, of every person who had anything to do with the book.
And.....
and...
...AND......
The. Most. Incredibly. Beautiful. Sock patterns I have ever seen! Imagine - lily of the valley on your socks!
Thank you Nad, for your generosity. You are amazing.
This box from Germany also came with Hello Kitty, tea sugar, tea, a French knitting magazine, a mini Opal skein (so cute!), absolutely gorgeous mohair for lace, and a pin that says: "
I'm a knitaholic and proud of it! Passionate Sock Knitter.
hee hee
Apparently, The Post Office was also interested in this package, because once again, it had a hole busted in it, even though the customs slip listed the contents as quite innocent! I was angry, because the little things could easiy have fallen out of the hole, which was the length of my finger and looked quite deliberate - just big enough to peek inside and check the contents! Now, I don't mind if they feel they have to check, but why don't they seal it back up again? I almost feel like they're trying to pretend that they *don't* check the mail....
Well, my boyfriend is complaining that he's getting no attention (I'm blogging, watching the Red Sox/Mariners game. and eating pizza) so I'd better go. Socks. Must knit more socks! Oh, did I tell you that this book also has a pattern for a tiny, tiny lily of the valley sock? Small enough for a keychain!
Now you know what you're all getting for Christmas! ;)