Tomorrow is the Sheep and Wool fair. Did you hear? Tomorrow. Sheep and Wool. SHEEP. WOOL. TOMORROW.
WOOL.
Wool Wool Wool Wool Wool. And Sheep. Nice soft warm wooly sweet-faced sheet. And llamas. And alpacas. And angora bunnies. Yup. Bunnies you can knit with! And wool. Handpainted wool, self-striping wool, lace weight wool, silky wool, fuzzy wool, fat wool, loopy wool, and baby wool…. Me. Sheep and Wool Fair. Tomorrow.
Arrgh! Sorry about that. Just got a little carried away for a moment!
I just talked to my sister on the phone and told her about the black blouse I'm knitting for her (Right Now) and she was really happy – so that's good! Now I can show pictures because it's not a surprise any more. She's on her way to an art show and likes to talk on the phone while she's riding the city bus. I was also doing two things at once! I was taking photos of my knitting needles for you! (aren't you glad? Didn't you want to know my knitting needle situation?)
Here are some very vintage ones, made from "Vegetable-matter Ivory" – a precursor of rubber, and some celluloid ones too. The tops are mostly Bakelite – crimson, garnet, blue, ebony. These celluloid needles are bendy and soft, and don't make a satisfying clicking sound when you knit with them, but I love them all the same. They have the good old names: Nun's, and Clark's, and Fleisher's...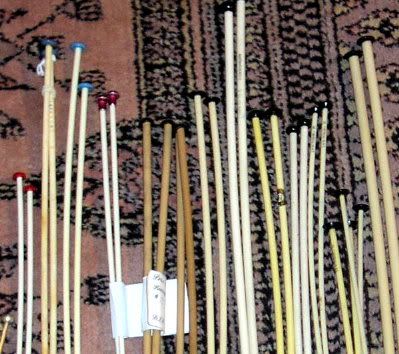 Now, these are the Vintage and not-so-vintage wooden ones! Far over on the right you can see the pair with the ivory heads, and on the left, the beautiful carved rosewood ones made by Brittany that are now impossible to find. The ones in the middle with the red tops are actually painted strawberries from Russia.
Here are the Vintage coloured ones – the short green ones right in the middle are Bakelite, as are the blue ones over to the left. The blue ones have octagonal heads. Knitting with Bakelite is the best – they are so smooth and cool in your hands! I knit Karen's Roseleaf Gloves on these green Bakelite needles. My second favorite are on the very left - if you look closely, you will see that heads are little red hearts - I love knitting with these! It's hard to see but right of center are some shorter ones that look red and white - they are actually 3-coloured! These Red, White, and Blue needles are from the 1940's – patriotic wartime needles, when women were exhorted to "Knit Your Bit" for the War effort!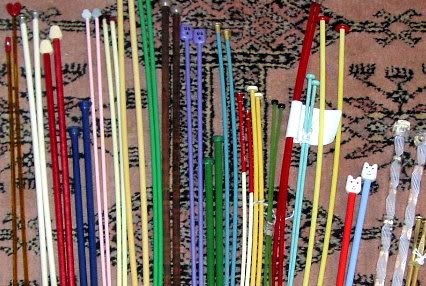 Now you know why I have so much fun knitting. Wish me luck with the sheep tomorrow - I'm off bright and early, even in the rain!